Orangeburg Christian Academy
provides an enjoyable educational program designed
to give
your child a firm foundation for a lifetime of learning.
Member of South Carolina Association of Christian Schools (SCACS)

College Preparation Courses

Technical College Prep Courses

American Christian Honor Society

Tutoring one half hour per week at no extra charge

Standardized Testing Programs

Read Across America Celebration
Orangeburg Christian Academy promotes a Bible-based philosophy that encourages salvation, spiritual growth, and a lifetime of service.
Bring each student to a personal knowledge of Jesus Christ

Create within each student a desire to love, know, obey, and serve Christ

Promote daily study of the Word of God

Instill a high moral standard and disciplined life in our students

Offer a Christ-centered, biblically integrated curriculum

Promote the partnership of the home, church, and school in training our young people to live Godly, productive lives

Weekly Chapel Services for elementary, middle school, and high school students

Koala program also available
Orangeburg Christian Academy provides a Christian atmosphere where students are challenged to grow socially. Students are encouraged to reach their full potential for the Lord through many social activities
Homecoming

Drama

Speech

Student Body

Yearbook Staff

Student Christian Association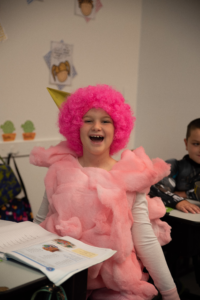 Orangeburg Christian Academy promotes fitness, maintenance, and respect of the body as the "temple of the Holy Spirit."  
Physical education and the Athletic Department only enhance education and are a part of a balanced educational program.
Fall Volleyball-Girls (7th-12th)

Basketball-Girls and Boys (7th-12th)

Softball-Girls (7th-12th)

Baseball-Boys (7th-12th)

Small Fry Cheerleading-Girls (K5-6th)

Cheerleading (6th-12th)